Accommodation
Activities & Attractions
Bike Hire/Tours/Transport
Bike Shops & Services
Cafes/Restaurants/Bars/Food
Professional Services
Wineries & Breweries
This gallery is located right on the cycle trail and across the lawn from the charming Riverside Cafe at the historical Riverside Community, established 1941.  Once used as a packing shed it has been transformed into a place for art and invites visitors to enjoy the play of light and shadow.
Stylised steel tuataras, fantails and taniwhas contrast with the unique copper wall panels, back-lit sconces and free-standing lamps that artis Che Vincent has created.  Giant Beetles and Hermit crabs pattern the walls with their glow and create a beautiful and other-wordly space. 
289 Main Road, Lower Moutere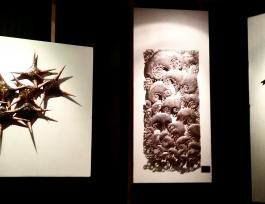 Helibike Nelson is a small Nelson based company who love to take people on adventurous mountain bike rides in and around the top of the South.
Our driving force is the reward that comes from the huge grin we see on your face at the end of the day, knowing we have taken you on a ride that has not only left a mark on your soul but will be a part of your memories forever.
We like to create a relaxed, fun atmosphere in our groups that feels like a group of mates on holiday.  Our trips are led by our experienced professional guides who each bring their own unique personality, and who strive to understand and meet your needs.  We keep our groups small enough to make sure that we can offer the best of ourselves and pay attention to the little things that make a difference.
We are dedicated to your enjoyment and safety, so whilst you get on with having the best ride of your life, we take care of the logistics, health and safety requirements and ensure you get home safe and sound.
We know our rides and destinations intimately.  Where we take you, how we get there, and the interactions you have with our people and the environment are all extremely important to us to get right for you.  We have chosen and developed a range of rides and adventures, each unrivalled and unique in its character, just like the riders we take there.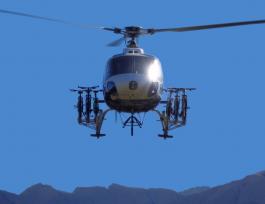 JointWorks Studio is a studio making handwoven items, and handmade wooden items. 
Handwoven - scarves, wraps, wall hangings, jackets, tablemats and kneerugs. 
Furniture - small coffee tables, tables, wall units, decorative boxes.
Commissions - we would love to work with you to create something unique to you, please ask. 
Posting - we are happy to post your purchases home.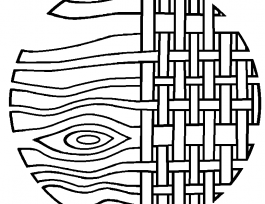 Just a 10-minute walk from Kaiteriteri Beach, Kimi Ora Eco Resort offers rooms with a balcony and sea views. Guests enjoy free Wi-Fi, free breakfast and a range of luxury facilities including a spa and wellness centre.
Kimi Ora is a 10-minute drive from Abel Tasman National Park and a 50-minute drive from Golden Bay. Nelson Airport is a 1-hour drive away.
All rooms offer a kitchen or a kitchenette. They feature a dining and lounge area with a satellite flat-screen TV and a DVD player. Some rooms boast a fireplace, a spa bath, air-conditioning or BBQ facilities.
Enjoy a swim in the heated indoor or outdoor pools, or warm up in the hot tubs, steam room or saunas. The games room features a billiards and table tennis table. You can make use of free guest bicycles and mountain bike hire, to explore the famous Kaiteriteri Mountain Bike Park.
Kimi Ora Restaurant serves vegetarian cuisine. Your free continental buffet breakfast includes cereals, organic cheese and yoghurt, fresh fruit salad, toasts, spreads, nuts, juice and organic tea and coffee.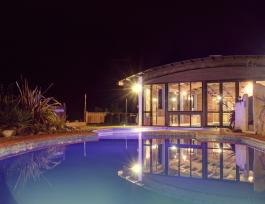 ONLY .5 of a km from the cycleway in Brightwater, is the Workshop and Gallery of Royce McGlashen. This is the only place in the world that you can see his full range of ceramic creations and paintings.  OPEN 7 days a week – We can pack and send ANYWHERE.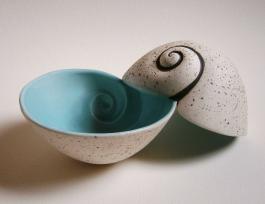 Pic's Really Good Peanut Butter is really good - an all natural, nothing added, just great tasting spread. In fact kiwis love it so much it is New Zealand's No.1 peanut butter. Our team of peanut butter makers expertly craft both crunchy and smooth, freshly roasting and squishing peanuts and adding a pinch or two of sea salt to our salted varieties. To witness the making of our legendary peanut butter at our Nelson Factory, you can book a tour every Monday-Friday at 11am. To do this call 0800 PEANUTS or  log on to reallygood.co.nz. You can also email us at: [email protected] And not forgetting you can call in and just say hi and sample our peanut butter at the Pic's Factory & Shop, 18 Elms Street, Nelson 7011, New Zealand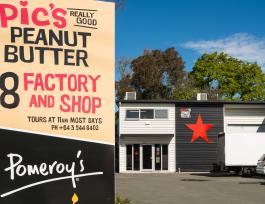 Proper Crisps is all about keeping it simple – producing "truly outstanding" hand made crisps. There are no additives, artificial preservatives, colours or flavours. When you're eating Proper Crisps, you're eating all natural.
Ideal base for exploring the "Top of the South". 
Situated 7km from Motueka at the historical Riverside Community, established in 1941, in the Lower Moutere Valley.  Featuring a self-contained studio for up to 5 people (Kereru Studio) as well as a shared bunkroom for up to 10 people (Tui Bunkroom), also fully self-contained. 
We are located on Tasman's Great Taste Trail, close to beaches and the Abel Tasman and Kahurangi National Park.
50 metres to the charming Riverside Cafe where breakfast and lunch is available from 9.30am to 4.30pm.
Tui Bunkroom:  $28/night/person. 
Kereru Studio:  $100/night/1 person - $10 extra/person.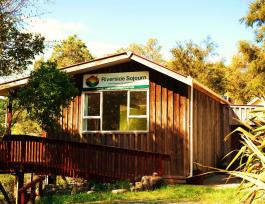 Simply Wild Journeys are the experts in private bespoke luxury travel & adventure experiences in Nelson, New Zealand.There's nowhere else in the world where you'll find, within a short distance, three spectacular National parks, glistening golden sand beaches and turquoise crystal clear waters, alongside alpine meadows and snowy mountain ranges. Enjoy all year in a climate that rivals the Mediterranean.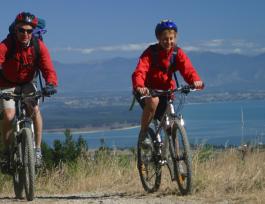 Take a break from cycling. Travel with style aboard Wilsons Abel Tasman's Vista Cruise into the National Park. The Wilson family has been welcoming visitors to the region since 1841 so their team knows how to show you the best of the Park with beach stop, walking, guided sea kayaking and beachfront lodge stay options. Choose from a 2 hour cruise to a 5-day all inclusive holiday staying at our Beachfront Lodges. Our Great Taste Trio combines cycling from Nelson to Kaiteriteri with a journey into Abel Tasman National. We take care of all the details leaving you more time to relax and enjoy the Great Taste Trail and beyond.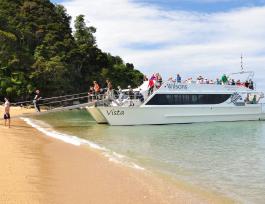 Experience a creative and visual experience that is almost beyond description. Firmly established as an iconic 'must see' Nelson visitor attraction, the WOW® and Classic Cars Museum celebrates two distinctly different passions. View amazing works of art that are wearable from the annual World of WearableArt™ Awards Show, displayed alongside a world class collection of rare and classic cars. The museum also includes a Café, Museum Shop, Art Gallery.  Open every day from 10am – 5pm (except Christmas Day)